Like a lot of cities and towns in Colorado Westminster can trace its origins to the gold rush of the late 1850s. Many of the people who arrived during those years were lured by the potential for riches. While others were simply passing through on their way to California, considered the difficult road ahead through the Rockies, and decided to end their westward migration here. The Land Act of 1862 brought more permanent settlers as well as real estate speculators, including one from Connecticut named C.J. Harris, for whom the town would be briefly named.
In 1891 construction commenced on what is now known as Westminster Castle, the city's most distinctive architectural landmark. It was intended to be the centerpiece of the new Westminster University and shortly after the school opened the town was renamed in its honor. While Westminster University never took hold the city itself took off after 1950 thanks to the construction of the Denver-Boulder Turnpike and the fact that many WWII veterans moved to Colorado seeking a peaceful, friendly place to raise their new families.

Between 1950 and 2000 the city's population exploded by more than 6,500% from just over 1,500 to more than 100,000. Today, Westminster ranks as the 7th most populous city in the state and is a key part of the Denver-Boulder Statistical Area. In the 2006 Money magazine rankings of best places to live in the United States, Westminster ranked 24th.
Why Carpet Cleaning in Westminster is So Important
Life for those of us in Colorado revolves largely around our relationship to nature. In many respects that's a wonderful thing. But nature is a double edged sword. In the case of Colorado that means that along with the world class skiing, hiking and breathtaking vistas we must also endure dust storms roiling across the high plains, enormous quantities of pollen drifting through the windows in springtime and even the occasional flood; like those that ravaged the area in 2013.
Dust and pollen collect in carpets, compromising their integrity and generating allergic reactions in people. While even a little bit of water invading the home can turn those beautiful carpets into grimy, smelly breeders of bacteria and mold. But you can't just toss your carpets and live on concrete floors. You need to find a company that will take proper care of them. That company is Steve's Carpet Care & Restoration.
Having the pros from Steve's in to care for your carpets and clean your air ducts will help:
Ensure dust particles don't compromise the integrity of your carpets.
Ensure your HVAC system isn't simply recycling contaminants that have become lodged in the air ducts.
Make sure your carpets don't become breeding grounds for dust mites and other tiny insects.
Save you money be enabling your HVAC system to run at peak efficiency.
Create a healthier environment for everyone who lives in or visits the house.
It's incredibly important to have your carpets and air ducts cleaned regularly if you're to enjoy the full benefits of living in such an idyllic place as Westminster.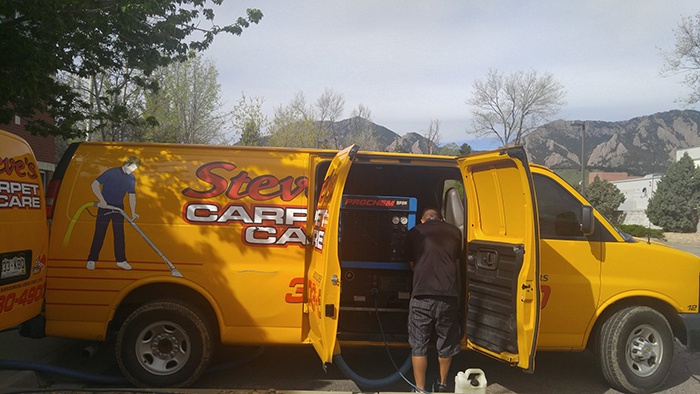 Speaking of Duct Cleaning
Duct cleaning is an often misunderstood aspect of home maintenance that's crucial to the health and well-being of your home and its inhabitants. The ductwork is how your home breathes. Virtually every breath you draw while inside your house is air that has come through the ducts. If the ducts are clogged with pollen, pet dander, dust, dirt, hair and other contaminants then that is what you are breathing. In fact, if you haven't had your ducts cleaned in a couple of years you can probably breathe cleaner air by stepping outside. At Steve's we're serious about duct cleaning and no one in the Westminster area does a better job of it.
Additional Services
We've been hard at work helping the good people of Westminster keep their homes clean and healthy for more than 42 years. Over time we've been able to branch out and develop additional services that complement our carpet and duct cleaning business. These services will help make your home safer, more comfortable and more valuable. They include:
Steam cleaning of furniture and upholstery - Fabric based upholstery has a fabulous look and feels great when you sit on it. However, like carpets, fabric-based upholstery is also a favorite hiding place for dust, dirt, pollen, pet hair, human hair and pet dander and a favored breeding ground for dust mites and all types of microbes. These tiny creatures congregate in the fabric of the upholstery causing allergies and aggravating respiratory problems like asthma and bronchitis. Having your furniture and upholstery steam cleaned is a great way to ensure a healthier home.
Dryer vent cleaning - Each year in the US almost 15,000 house fires originate within clogged dryer vents. That's about 1 out of every 20 house fires. What's even more upsetting is that virtually all of those dryer vent-related fires could be prevented if people kept their dryer vents clean and lint free. At Steve's we understand that dryer vent maintenance means more than simply cleaning the lint trap. It means putting our knowledge and experience to work to return the entire length of your dryer vent to pristine condition. This will not only make your home a safer, healthier place it will also help you save money. That's because a clogged dryer vent forces your dryer to work harder and consume more energy. Cleaning the vent takes the pressure off the dryer and allows it to operate at maximum efficiency.
Water damage repair - As the events of 2013 demonstrated you don't need to be in a coastal city to suffer the scourge of flood damage. In fact, some of the Westminster homes damaged that year have yet to fully recover. Should flooding return to the area we're prepared to offer a range of related services including cleaning of damaged floors and furniture and small scale distribution of essential supplies.
Why So Many Westminster Homeowners Choose Steve's
The people of Westminster are hard-working down to earth folks who know the value of a dollar and appreciate a job well done. For these reasons they've made us the number 1 carpet cleaning service in the area. Folks know that when they call Steve's to clean their carpets, upholstery, dryer vent or ductwork that we'll show up when we say we will and will get the job done right the first time. We've been at it for more than 4 decades and we still approach every job as though it is the most important job we've ever done. Because it is. You can depend on our:
Dedication to customer care.
No-nonsense, transparent pricing.
Friendly reliable technicians.
High quality work.
The Gold Standard for Carpet Care and More
While the gold prospectors have long since gone you can still enjoy the gold standard of carpet care by enlisting the services of Steve's Carpet Care & Restoration in Westminster. We're proud to be part of the Westminster community and always go the extra mile for our customers. When you need expert carpet or duct cleaning, first class upholstery or dryer vent cleaning or help recovering from flood damage give us a call at (303) 530-4900.