Water Removal and Restoration
Steve's Carpet Care & Restoration knows how stressful a flood – whether natural disaster or burst pipe – can be. Any unexpected occurrence is always stressful and nerve-racking. We understand this and want to bring you comfort by providing you quick service, a low price, and performance of the best job possible. We do not offer 24/7 on-call assistance for any flood or emergency services, but we do provide clean water and other small flood services. We can also clean floors and furniture damaged by flooding. Water damage should be treated promptly because it can cause health hazards.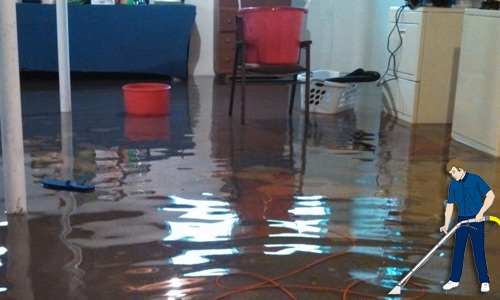 The Flood Threat in Colorado
We don't want to give the impression that Colorado is constantly battling devastating floods, because that is clearly not the case. However, there is no denying that development in the flood plains along creeks and rivers at the foot of the Rockies has created the potential for flooding in those areas, especially in the spring due to runoff from snowmelt in the mountains.
Flood plains are typically nice and flat and most of the time they are dry and fertile. This makes it the kind of land that is seemingly ideal for building a house or apartment complex. But just because someone builds a house in one of these areas doesn't mean the river is going to cooperate and flood somewhere else. Following intense rain events, or when runoff from the mountains is heavy, these flood plains go back to serving their natural function of receiving overspill from the river. As a result, people wind up with water in their house.
2013
Maybe the most devastating example of the danger that exists along the Front Range was the 2013 Colorado floods. In September of 2013, a weather system stalled over the state and dropped more than 17 inches of rain on Boulder County alone. Runoff from the mountains joined with water on the ground to produce disastrous flooding along 200 miles of the Front Range affecting Weld, Boulder, Freemont, Jefferson, Adams and a dozen more counties.
Boulder Creek, which typically flows at about 150 cubic feet of water per second, was up to 5,000 cubic feet of water per second. An incredible amount the creek simply could not handle. The extra from this and other waterways wound up on the natural flood plains in the area. As a result, 1,500 homes were completely destroyed and nearly 20,000 damaged. Eight people lost their lives and several others are still unaccounted for.
Sadly, this was not the only time flooding along the Front Range destroyed property and took lives. In both 1983 and 1984 heavy snowmelt caused flooding in Front Range communities resulting in a dozen lives lost.
Flooding and Your Home
It goes without saying that floods can have a devastating effect on a home. Even if the foundation and framing are left more or less intact, other things like wiring, the furnace, the ductwork, furniture, carpeting, appliances and more can suffer serious damage. But damage to individual components of the house is not the only type of damage. Flooding can, and often does, do long-term damage to the value of both home and property. Whether or not the hit to your home's value lasts depends largely on whether flooding is a regular occurrence or one that only happens if extraordinary conditions exist.
Frequent Vs Infrequent Flooding
If you live close to a river or creek in Colorado your home will likely be more expensive to insure than if you lived some distance from the river. Living right up against a river or stream will likely subject your home to more frequent inundations, therefore making it more expensive to maintain and restore as well. If the home you plan on building or buying is in a known flood plain carrying flood insurance is an absolute must. If, however, you live away from a water source you may not need it.
What You Can Do To Flood-Proof Your Home
There are things you can do in order to mitigate the threat of flooding to a home in a flood-prone area. The most extreme and costly, yet undoubtedly the most effective, would be to raise the home so that any flood water could pass harmlessly beneath it. You see this solution employed regularly in coastal communities that are susceptible to hurricanes.
You might also bring in a landscaper to adjust the grade of the property to ensure any water that enters is quickly and effectively carried away. Another possible solution would be to install what are called "flood vents" in the foundation of the house. Water that enters the basement is often trapped and forced upward. Installing flood vents in the foundation walls allows water to exit before it rises all the way to the first floor.
In addition, anyone whose home is in a flood-prone area should consider having a sump-pump installed as well as a backup prevention valve. The backup prevention valve - also known as a "back flow preventer" and "sewer backup preventer" - prevents water from coming up the sewer line in times of heavy rain or seasonal flooding. It can not only prevent water damage in the house but prevent your house from taking on the odor of sewage, which can be difficult to get rid of.
A Little More About Flood Insurance
In most cases, homeowner's insurance policies specifically omit flood coverage. If you want that you will have to buy a separate policy. They're not cheap. But if you live in a flood-prone area at the foot of the Rockies it doesn't make sense to roll the dice and just hope nothing happens. The sad fact is that pumping water out of a house, removing damaged and useless materials, replacing wiring, the furnace, appliances, siding and living somewhere else while the house dries out and is repaired can be prohibitively expensive. Flood insurance likely won't cover 100% of such costs, but it will probably cover most of them.
When buying a flood insurance policy you should first review your current homeowner's policy to determine exactly where the gaps in coverage are. Once you figure that out and start shopping for flood insurance to fill those gaps make sure you take the time to review the entire flood insurance policy - including that often troublesome fine print - before ponying up your hard-earned money. The ultimate goal is to make sure that between the two policies you are covered for as much as possible and that potential out-of-pocket expenses are manageable.
At Steve's We've Got You Covered
Taking precautionary steps to prevent flooding or to reduce its effects is the only logical approach if you live in a flood-prone area. But no matter how diligent you are it's not always possible to prevent floodwaters from causing damage. What separates a home that recovers quickly and effectively from one that is overwhelmed with mold and mildew, ruined furniture and carpeting that needs to be ripped up and replaced is the speed and effectiveness of the response.
When you enlist the help of Steve's Carpet Care & Restorationin the aftermath of a flooding incident you can be sure your home and its contents will have the best possible chance of making a full recovery. Our experts don't waste any time getting in and cleaning and drying the different components of your home. If furniture, carpets and other items can be saved we will save them. We move fast to address all forms of water damage. In many cases fast enough to save items you might otherwise have to dispose of.
Why Professional Flood Cleanup Is So Important
Our professional flood mitigation service is more efficient and effective than trying to handle matters yourself. It's also safer. First, because we have the experience to determine quickly what can be saved and what can't. Second, because we have the equipment necessary to get the job done right. And third, because navigating a flood-damaged home can be perilous and we have the experience to identify electrical and other threats left behind in the wake of flooding.
All of our technicians are trained in how to safely work in such environments where electricity, contaminated water and often dangerous debris are present. We have the personal protective equipment necessary and are fully insured. That's crucial because in the event of an accident you do not have to deal with the additional headache of medical expenses.
Get in Touch With Steve's
Those of us at Steve's Carpet Care are members of the communities we serve. We have a vested interest in making sure every one of our customers gets the best possible service at a price they can afford. When it comes to flood mitigation services we handle everything in a timely fashion, and in a way that minimizes disruption for you and your family. We also stand ready to hand out a limited amount of emergency supplies to affected homeowners in the event of serious flooding events in the future. Call our team (303) 530-4900 to learn more about any of our cleaning services.