Oriental and Specialty Rug Cleaning and Restoration
The natural splendor of Colorado is what draws most people to this part of the country, and it's easy to understand why. But everything has its downside, and in the case of natural splendor, that downside is all the dirt, dust, pollen, mold spores, and other types of natural debris that wind up getting tracked into the house and deposited onto your rugs.
If you own expensive Oriental rugs making sure all that dirt and debris doesn't take up permanent residence in the rug is essential, as it has the potential to drastically reduce the lifespan and value of the rug. But keeping other types of area rugs clean is just as important.
Our Boulder carpet cleaning team offers the highest quality rug cleaning service in the state. When you entrust your Oriental or other area rugs to us you can be sure they'll be returned to you in pristine condition.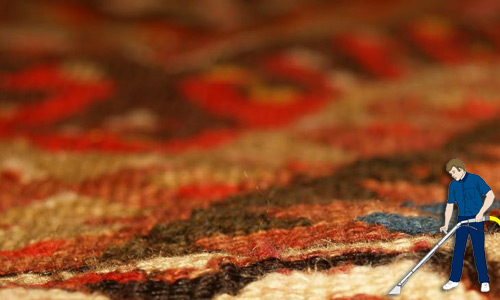 Oriental Rug Cleaning
An Oriental rug is a one-piece handmade rug created in any of the countries of Central or Southern Asia or the Middle East. Rugs originating from what is now Iran are also Oriental but are more specifically referred to as Persian rugs and have their own long, distinguished history.
Oriental rugs are handmade masterpieces that have been around for hundreds, if not thousands of years in some cases. They're typically made of wool, cotton, or silk and require special processes and chemicals to clean and treat properly.
At Steve's Carpet Care & Restoration, we have the experience and knowledge to clean oriental rugs in a way that ensures they will retain their beauty and integrity so that they can be handed down for generation after generation.
Don't spray household cleaners or other harsh, off-the-shelf products onto your precious Oriental and risk damaging the dyes and colors in your rug. Call Steve's instead. We'll handle the dirty work for you and ensure that your investment is well protected.
Why You Should Never Steam Clean or Wet Vac an Oriental Rug
A lot of people who own Oriental rugs are tempted to try and save a few bucks by cleaning them with a rented steam cleaner or wet vac. Below are 5 reasons you should never do this if you care about the long-term viability of your expensive carpet.
Color Bleeding
![Colorful oriental rug with bleeding dye colors](oriental-rug-with-bleeding-colors.jpg)
Color bleeding is when color from one part of the rugs seeps out of the fiber and is carried by water to another area where it settles, mucking up the color scheme. Color bleeding occurs because the person cleaning the rug has little experience and either uses too much water or allows the water to stay on the carpet too long. This is a mistake the experienced pros at Steve's will not make.
Shrinkage
Cotton is often found in the weft of handmade carpets. The weft is crucial in helping the carpet retain its geometric integrity. Without it, that nice stable rectangular shape wouldn't last long. When hot water or steam is used to clean an Oriental rug it can cause the cotton weft to shrink, and this can cause the carpet to become misshapen. This is another big mistake the pros at Steve's will not make.
Distortion of the Nap
The "nap" or "pile" denotes the direction of the fibers in your Oriental rug. Steam cleaning machines are notorious for aggressively working the surface of the rug and changing the nap direction. When this occurs the overall appearance of the rug is negatively affected. Both the colors and pattern may appear inconsistent as a result. This won't happen when you entrust your rug to Steve's.
Surface Cleaning Only
If Oriental carpets are not cleaned thoroughly right down to the base any remaining dirt can have a corrosive effect when the carpet is walked on. Over time this corrosive effect will weaken the fibers and shorten the life of the carpet. Not good. Steam cleaners are not designed to remove large amounts of dirt from inside the rug. If you're lucky the carpet may look clean when you're done, but in reality, it will only be partly clean. We employ traditional techniques to remove all dirt and grime from your Oriental.
Floor Damage
Trying to wet vac an Oriental carpet is not the same as using a wet vac on wall-to-wall. With an Oriental the water and detergents can easily get on the floor. And if you have hardwood floors that water and soap may cause considerable damage. Accidentally applying steam heat to hardwood floors can also damage them. Drop your rug off at Steve's and give your floors a break.
Area Rug Cleaning
![Gloved hands cleaning dirty oriental rug with scrub brush](scrubbing-dirty-rug.jpg)
The best way to help ensure your area rugs always look their best and will last as long as possible is to vacuum on a regular basis. This prevents dirt from building up in the pile where it can be devilishly difficult to remove.
But vacuuming will only go so far. At some point, area rugs need to be professionally cleaned. But how do you know when it's time to call the pros at Steve's Carpet Care? There are two ways. Either schedule an annual cleaning on a given date, or keep a close eye on the rug. If it still appears dingy even after a thorough vacuuming, then it's time to call Steve's. We strongly recommend regularly scheduled cleanings, but ultimately it's up to you.
Steve's Area Rug Cleaning Process
The first step in having your area rugs cleaned by the experienced professionals at Steve's is to either drop them off at our shop or arrange for us to pick them up. If the total projected cost is sufficient we will pick up and drop off your area rug or rugs free of charge. Once we have the rugs the cleaning process typically adheres to the following steps.
Step One: Removal of Embedded Dirt
You may have a vacuuming schedule that you rigorously adhere to, but it's not possible to remove all the embedded dirt, dust and grime from an area rug with a residential vacuum cleaner. So the first thing we do is give your area rug a thorough vacuuming with our industrial strength vacuum and then check the rug carefully to ensure we've removed every last grain of dirt we possibly can.
Step Two: Select the Right Cleaning Method
Different materials will call for different cleaning methods. The age and condition of the rug - as well as the size and nature of any stains - will also influence the choice of cleaning method. It's important to use the right method in order to avoid damaging the fibers or causing the colors to bleed. Cleaning methods range from hot water extraction to a gentle hand cleaning.
Step Three: Drying the Rug
No matter what type of cleaning method used there will be some water involved and that water has to be completely removed and the rug thoroughly dried out before damage can occur. When we are satisfied your area rug is as clean as can be we place it in a drying room where temperature and humidity are strictly controlled.
Step Four: Inspecting the Rug
We never assume anything. Therefore, once your rug is completely dry we lay it out and perform a close side-to-side, end-to-end inspection. Should we discover a stain that needs to be addressed again we will take the rug back and re-clean as necessary. The unfortunate reality is that not all stains can be completely removed, However, if a stain can be removed, rest assured we will keep at it until the job is done.
Step Five: Brushing the Rug
The last thing we do before returning your area rug to you is to give it a good brushing. This is done by hand to ensure no damage is done and to make sure your rug looks and feels its absolute best. The rug is then wrapped to protect it and make it ready for pick up or delivery.
Don't Forget Our Other Services
Our rug cleaning service is the best you'll find, but it's far from our only high-quality service. We also offer:
Dryer Vent Cleaning
Clogged dryer vents are one of the most common causes of house fires with more than 15,000 such fires starting in dryer vents each year. But it doesn't have to be this way. Regularly scheduled dryer vent cleaning from Steve's can ensure your home doesn't become a sad statistic.
Upholstery Cleaning
![Homeowner using machinery to clean stained upholstery](upholstery-cleaning.jpg)
If you have the carpets cleaned but not the upholstery you're only doing half a job. That's because all the airborne dirt and debris that settles into your Oriental rug also settles onto your upholstery. We offer expert upholstery cleaning at very competitive rates.
Water Damage Repair Services
No one who lived through the Longmont floods of 2013 will ever forget. Entire areas of the town were washed away. In the wake of this tragedy, we developed our Water Damage Repair Services aimed at helping people victimized by flooding recover as much of their carpeting and furniture as possible.
Trust Steve's
For professional rug cleaning services you can trust, call Steve's at (303) 530-4900.