Stone and Tile Floor Cleaning
Is your bathroom looking dingy these days? Grout (the mortar between tiles) contains tiny pores that absorb dirt and other materials, causing a layer of grime to develop in crevices and discoloration to occur. Steve's Carpet Care & Restoration uses high-pressure tools to loosen and remove deep down dirt from tile floors, showers, counters, and backsplashes.
We also offer grout sealer to protect your grout's true color and also allow you to clean it easier with less scrubbing. Grout sealer is a necessary step in the professional cleaning process to fill the porous grout.
We do not clean or polish natural stone.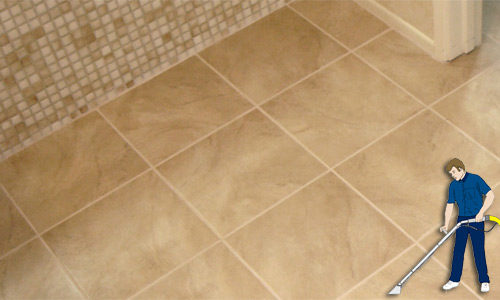 I Mop My Floor All The Time. Why Is My Grout Still Dirty?
We hear this question a lot. People diligently mop their tile floors yet the grout between the tiles never seems to come completely clean. And in fact, it just seems to get progressively dirtier over time. Is it because they need a new mop or are using the wrong detergent? In most cases, the answer is "No". It has nothing to do with the detergent or mop they're using and everything to do with the nature of grout.
As we mentioned above grout is porous by nature. That is, when it dries it contains countless tiny pores that make perfect parking places for dirt particles. It seems as though mopping the floor or washing down the countertop should remove this dirt. But there is an unexpected player involved that is preventing that from happening: the water. We'll explain.
Mopping involves removing the mop from the bucket, wringing it out and using it on the floor. After mopping a section of floor you put the mop back in the water and transfer the dirt it picked up to the water. You then take the mop, wring it out and clean another section of floor. But every time you do that the mop is picking up some of the dirt that's now in the water and you are reapplying it to the floor, where it settles into the grout and remains there after the floor dries.
This is why the tiles often look great after mopping but the grout never returns to its original snowy white. And with each successive mopping, it gets progressively dingier. A standard mop - or in the case of countertops and backstops, a sponge - simply isn't able to remove the dirt hidden deep inside the pores of the grout, and every time you take the mop or the sponge out of the bucket you put dirt from the water back into the grout.
What Can be Done to Prevent This From Happening?
The answer is to call Steve's Carpet Care and have our technicians clean your tiles using our special high-pressure equipment, and then follow up that industrial-strength cleaning by permanently sealing the grout.
Some cleaning companies try to convince you that all they need is a bigger bucket of water to clean your tiles and grout properly. The idea is that the more water they have the more dispersed the dirt will be within the water and the less will be reapplied to the floor. They also suggest that you, or whoever is washing the tile floor, get down on their hands and knees and manually dry the floor using bath towels! With all due respect to these companies, Steve's has a better way.
Our high-pressure cleaning equipment forces water right down into the bottom of the tiniest pores in the grout removing dirt and dust particles hiding there. And because we don't use a bucket of soapy water we don't reapply any dirt back onto the tiles and grout. The result is a level of cleanliness that is simply not obtainable with a mop or sponge.
Sealing: The Key to Permanently Clean Grout
Once we finish scouring every last dirt particle from the pores of your grout we seal it up in order to prevent it from getting dirty again. This is the key to permanently clean grout. Once sealed any dirt that settles onto the grout can be quickly and effectively removed using standard cleaning methods.
Sealing grout once it's been properly cleaned can be a tricky proposition, but our technicians have undergone extensive training and will always leave your grout looking great. We never use low-grade sealants as they are known to discolor over time and break down quickly. Instead, we use only the highest quality commercial grout sealers and apply them using professional applicators designed to provide a smooth, agreeable finish.
Even the highest quality sealer will eventually break down and need to be replaced. But our high-quality sealants are typically fine for several years. Sealing grout in the shower is a slightly different matter because shower grout is constantly being bombarded by hot water, steam and a combination of soaps and shampoos. Therefore, the grout in the shower should be redone once a year to keep everything looking its best.
The Benefits of Having Your Tiles and Grout Professionally Cleaned
Here are just some of the benefits you will enjoy when you have your tiles and grout professionally cleaned and sealed by the pros at Steve's Carpet Care.
Extends the life of your tiles and grout
Airborne pollutants that settle into the tiny pores in your grout often carry with them chemicals that eat away at the grout itself. By having your tiles and grout professionally cleaned and the grout sealed you prevent this from happening and extend the life of your grout (and by extension the tiles) by a significant degree.
Makes for a more hygienic home
It's not just dirt and airborne pollutants that hide in the nooks and crannies of your grout. Mold, bacteria, allergens and other microbes find shelter there too. If you really want your home to be as hygienic as possible, having the grout on your floors, counters and backstops professionally cleaned and sealed is a good way to start.
Future cleaning becomes much easier and faster
Once the grout has been thoroughly cleaned and sealed you won't have to work as hard to clean it in the future. All you will have to do in most cases is wipe it down with a wet cloth or sponge. Or in the case of flooring, simply go about your normal mopping routine without having to spend any extra time on trying to clean the grout.
Your house looks great
Let's not forget one of the biggest benefits of having your tiles and grout professionally cleaned by the pros at Steve's Carpet Care: your kitchen and bathroom tiles will look great. When they come over for BBQs or holiday get-togethers friends and neighbors may even ask you if you installed new tiles.
We make your life easier
When you enlist the team at Steve's to clean your tiles and grout you don't have to do this time-consuming chore yourself. You'll free up that time to do other, more important things like watching the big game, going out with your friends or taking a leisurely nap.
Sparkling clean tiles make it easier to sell a home
If you plan on selling your home and are looking for a way to get an optimal price, remember this undisputed truth: potential buyers consider the kitchen and the bathroom to be the two most important rooms in the house. Real estate agents will tell you that if a buyer doesn't like what he or she sees in these rooms they'll almost always move on to another house. Most tiles are found in these two rooms. So, by having the tiles professionally cleaned and the grout sealed you can improve your chances of finding a buyer and getting the price you want.
Take Advantage of Our Other Services
Nobody does a better job cleaning your tiles and grout than the team at Steve's. But that is not the only valuable cleaning service we offer our customers. We also provide:
Carpet cleaning - Carpets are where it all began for us and carpet cleaning is still our bread and butter service all these years later. If you want your carpets to look and feel their best, give our carpet cleaning team a call today.
Upholstery cleaning - If you clean the carpets but overlook the upholstery the living room is not completely clean. We have years of experience cleaning all types of upholstery. So when you order up carpet cleaning from Steve's don't forget to ask about upholstery cleaning too.
Dryer vent cleaning - More than 15,000 house fires per year in the US start in dryer vents that are clogged with lint. Don't let that happen to your home. Call Steve's and arrange for thorough dryer vent cleaning from our experienced professionals before it becomes a problem.
Water damage and flood mitigation - We understand that many parts of Colorado are prone to flooding. For that reason, we also offer expert water damage and flood mitigation services. If your carpet, furniture or flooring can be saved we will save it.
Trust The Team at Steve's Carpet Care
Make sure your tiles and grout always look their best by calling Steve's at (303) 530-4900. Keep in mind that we do not clean or polish natural stone.